Creme de la Mer
By Annabelle Roylance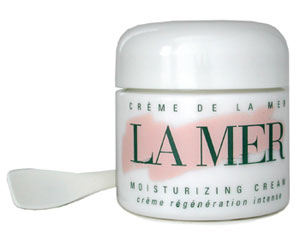 Creme de la Mer was invented by NASA aerospace physicist, Dr. Max Huber. Dr. Huber's face was severely burned in a lab accident. He was not satisfied with the treatment available so he went to work on developing something better. After 6000 experiments and 12 years of work Creme de la Mer was created. Described by some as "miraculous", Creme de la Mer leaves skin softer and smoother in appearance. It was later bought out by Estee Lauder in 1996.
Max Huber Research Labs continued to develop additional "La Mer" skin care products in the same vein as the original. La Mer now offers a complete skin care line including treatments for the face, skin and body. These products have been featured in many of the leading beauty magazines.
For maximum benefit it is important to apply Crème de la Mer to skin that is thoroughly dry. The healing molecules of the cream are held in a tiny layer of oil that slides off wet skin. Also, you warm the cream in your hands first before you use it. As with the best skin care products, carefully read the enclosed directions and follow them closely.
It is not entirely understood how Creme de la Mer works, only that the results observed on the faces of those who use it are remarkable. Those who try it, become devoted quickly even though La Mer products are definitely luxury skin care and not inexpensive. The fact that Creme de la Mer remains so popular, even with its higher price tag, is further customer testimonial to its effectiveness.
One reason for the expensive cost is the special ingredient: a specific seaweed taken off the north coast of California. This seaweed can only be harvested twice a year and then takes months to process.
La Mer explains the correct blending of active ingredients is extremely important when developing a powerful skin cream. Consequently their exact blending process and associated technologies are a closely guarded secret. Parts of the process that are known include fermenting a seaweed broth to the prerecorded gurgling of previous batches. Without the mysterious effects of these sound waves, the resulting cream is less potent. The final result is Dr. Huber's original nutrient rich Miracle Broth which is the heart of Creme de la Mer and the other la Mer products.
There is a great deal of work the company still insists on doing by hand, including the filling of the Creme de la Mer jars. Also, workers hand-peel lime rinds for some of the facial lotions in the new lines.
A skin cream with real science behind it; created by a rocket scientist. Treat your fine lines and wrinkles with Creme de la Mer.
Tagged as: best skin care products, Creme de la Mer, estee lauder, la mer, max huber, max huber research labs, skin care, skin care line, skin care products, skin cream
Annabelle Roylance is the editor of Best SkinCare Products.
Email this author